In his riveting account of social injustice in New Haven, Connecticut, bestselling author Nicholas Dawidoff chronicles the failings of the criminal justice system and their aftermath throughout America in his new book, The Other Side of Prospect. This landmark work of intimate reporting on inequality, race, class, and violence is told through a murder and intersecting lives in an iconic American neighborhood.
Dawidoff will gave a Zoom talk, titled "Violence, Injustice, and the American City," about his new book on Wednesday, Nov. 16, at 7 p.m. The event was coordinated by our Programming Committee, under the leadership of Debbie Schwartz.
In 2006, Herbert Fields, a beloved grandfather and respected citizen, was shot in the face as he sat in his car in Newhallville, a neglected neighborhood in New Haven, just steps from Yale University. A 16-year-old, Bobby, was coerced into confessing to the murder, even though he didn't do it, and was sentenced to 38 years in prison. In The Other Side of Prospect, Dawidoff tells the remarkable story of this injustice and offers deeper insights into the tangled legacies of severe deindustrialization, gun violence, incarceration, and inequality in American cities.
A New Haven native, Dawidoff returned to the city and dedicated eight years to researching and writing this book. He follows the story's roots back to the Great Migration and shows how the Fieldses, like many other Black families, moved from South Carolina to New Haven to escape Jim Crow and to redeem the failed promises of Reconstruction. Living up to its name, New Haven could enable families to realize a relatively comfortable, middle-class life, offering jobs at the Winchester arms factory, affordable housing, mobility, and community.
When factories closed after World War II, however, this precious progress started to collapse. Urban decay, white flight, redlining–the transformation of Newhallville, in Dawidoff's telling, make these symptoms of racist neglect vividly clear. As Bobby says, "Lack of jobs. Men don't know how to be. That's the tragedy of our world." Without present fathers or after-school activities, boys find power and agency in guns–for example, in the case of the suspected murderer of Fields, a young man named Major, who completes the book's group portrait.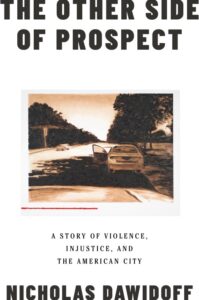 Why did Bobby confess? As Dawidoff shows, Bobby was interviewed hastily, coercively, and corruptly by detectives who promised him that if he confessed, he would face only probation, and if he didn't, he'd get the death penalty.
Dawidoff's account of Bobby's years in prison illustrates the national tragedy of mass incarceration, how it depersonalizes crime and punishment, failing to see the accused as individuals. He uncovers Bobby's "world inside a world . . . people whose second chance was giving him a second chance"–older inmates who led a book club devoted to James Baldwin, Richard Wright, and other writers who offer insight into Bobby's world.
Miraculously, Bobby won release from prison in 2015, aided by a dogged white lawyer, another of the book's indelible characters, who fought to prove his innocence. Suddenly reentering the outside world as an adult when he'd left it as a child, Bobby struggles to adjust without the structure of prison.
The Other Side of Prospect cuts to the heart of poverty and injustice in America through a group of unforgettable people and their intertwined experiences in an iconic American neighborhood.
Dawidoff is the critically acclaimed author of five books, including The Catcher Was a Spy and In the Country of Country. He is a Pulitzer Prize finalist and has also been a Guggenheim, Berlin Prize, and Art for Justice Fellow.