NCJW, West Morris Section reaches out to all members of the local community with innovative programs that provide food to the hungry, education, awareness and support.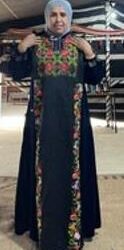 Listen to Huda share her inspiring story of founding the non-profit Association for the Improvement of Women's Status, Lakia, on Sunday, Dec. 3, at 10 a.m., via Zoom. The association is the first recognized Bedouin women's organization in the Negev, Israel.  According to the Joint Distribution Committee, in this current crisis in the Middle East, there has been an outpouring of unity and mutual support between the Jewish and Arab Israelis.
read more
Older Posts
Holocaust Survivor Ruth Ravina Shares Haunting Tale
Ruth was born in Kozienice, Poland (a town outside of Warsaw) in 1937, just two years before the Nazis invaded and occupied Poland. Ruth was an only child but had lots of cousins and family. For two years, her life was idyllic, but once the Nazis took over, fear was her daily companion.
Her mother and uncle owned an electrical supply store, which sold radios. Radios were confiscated by the Nazis, but they refused to give the radios to the Nazis so they burned down the store. Ultimately, many other family members were displaced and came to live with Ruth's family. While she enjoyed their company, furniture had been confiscated and there was little to eat. Ruth did attend a secret school held in a barn.
Ruth's parents were taken by the Nazis to the Pionky slave labor camp, while Ruth remained with her grandparents and cousins. When the ghetto was about to be liquidated, two teenagers grabbed Ruth and took her to the home of her father's apprentice, where she was given a new name so people would not know that she was Jewish. After six months, the family felt it was too dangerous to keep Ruth, and managed to smuggle Ruth into the slave labor camp. Because Ruth was a mere child, she was kept hidden during the day and fed rations from her mother's meager share. 
Ruth's mother, aunt and cousin were then shipped to another slave labor camp, Skarzysko-Kamienna. Ruth was smuggled into this camp in her mother's knapsack and again kept hidden in the third level of the bunk in the straw. During the day, Ruth recited math facts and Yiddish poetry as her mother did not want to have an "illiterate child" if they managed to survive. In the meantime, Ruth's father was deported to the Buchenwald concentration camp, where he was subsequently murdered.
The commandant at Skarzysko-Kamienna was particularly brutal; Ruth and her mother had to endure deprivation, hunger and humiliation. Eventually, they were liberated from the camp and went to Czestochowa. They returned to Kozienice after the war but there was no one left. Ruth was ultimately placed in an orphanage in Lodz, while her mother attempted to decide where they would go.
Following the war, Ruth and her mother spent four years in Sweden, recovering and rebuilding their lives. Eventually, they made their way to the United States where Ruth married, has children and grandchildren, and lives in Upper Montclair.
Prejudice Contest
The West Morris Section of the National Council of Jewish Women is proud of our annual "WHAT PREJUDICE MEANS TO ME" contest, which is open to all sixth-grade students attending schools in Morris County, New Jersey.
The purpose of the contest is to complement the sixth-grade curriculum and encourage students and teachers to have discussions about the many forms that prejudice takes in our society. It is our hope that by recognizing differences and exploring their personal experiences, students will begin to understand that compassion and tolerance are essential in our society today.
How to Enter the Contest
Most students enter the "WHAT PREJUDICE MEANS TO ME" contest through their schools. In the fall of each year, all public, private, and parochial schools in Morris County are contacted to invite teachers to participate. Entry forms, rules and the closing date of the contest are sent in early December to participating teachers. Entries are submitted online.
Individual students may also enter the contest. Contact Karen Secular to obtain an entry form.
Phone: 973-727-4656
E-mail: ncjwdiversitycontest@gmail.com
Website: www.ncjwprejudicecontest.org
Food for the Hungry
The section regularly collects non-perishable groceries for delivery to the Interfaith and Kosher Food Pantries in the community, providing families who need emergency supplies to enable them to prepare home-cooked meals during lean periods.
Rachel Coalition
The mission of the Rachel Coalition is to improve the lives of those affected by domestic violence. Rachel was launched in 1997 by a group of local northern New Jersey organizations that joined forces to respond to the incidence of domestic violence in the Metrowest Jewish community. NCJW West Morris is a founding member of the Rachel coalition and together with the other 8 partners has helped to create a comprehensive program of services for victims, to increase public awareness and to educate the community about all aspects of domestic violence.
The 24-hour crisis response line is (973) 740-1233, ask for Rachel. All communications are confidential.
Business Office (during regular business hours): (973) 765-9050
Marrow Donor Drives
Drives are conducted to help find genetically compatible, living marrow donors for those suffering from life threatening blood diseases. Contact us for further information.
Feelie Hearts for Grieving Children
Through intergenerational sewing circles, and at home, we make small, soft, stuffed fleece hearts, called "Feelie Hearts," for grieving children both in the United States and in Israel. More than 2,000 of these hearts have been sent out since 9/11, and they bring comfort to little ones who carry them to school and keep them under the pillow at night. This project has also inspired other organizations, both within the NCJW family and further afield, to sew these hearts and give them away with heartfelt good wishes.
Community Beautification Projects
The section has worked to restore local and national parks, historic landmarks and other properties in Morris County. Our volunteers have spent countless hours painting and repairing fences, clearing brush, planting, weeding and working on other beautification projects.