Sima and Javid Hakakian, both natives of Iran, crossed paths with history, and they'll explain how in a fascinating Zoom talk, titled "Iranian Odyssey." The talk, coordinated by our Programming Committee, headed by Debbie Schwartz, will take place on Tuesday, Oct. 25, at 7 p.m. The program is free and open to the public.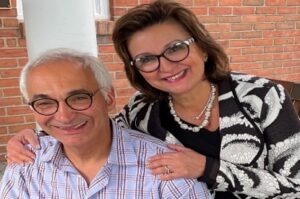 Both Sima and Javid, who are Jewish, were living in Iran in the 1970s, during the time when the Shah was toppled and the Islamic theocracy, under the Ayatollah Khomeini, came to power. "We never thought that would happen," Javid points out. At the time, Sima's family had a thriving business, and Javid's family was middle class; his parents were both teachers.
Sima had taken her college entrance exam in 1978, and she received the highest score in the country. That prompted the Shah of Iran to invite her to meet him so he could congratulate her on her accomplishment. "At that time, Sima was pro-Shah and I was more pro-democracy," Javid notes. "But we're both against the current government today, which is taking Iran back thousands of years."
In the 1970s, Javid was a key member of the 2,300-member Iranian Jewish Student Organization, a social action organization with chapters in Tehran and Shiraz. The group sponsored classes, camps, and speakers from Israel talking about Judaism and Israel, and supported the drive for democracy in Iran. "We were very active, pushing for elections and democracy," he notes.
Feeling threatened by the Iranian revolution, which started in 1978, Sima went to Israel and then to the United States. Javid, meanwhile, who left Iran just before the revolution, came to the United States with no intention of staying in America. He worked part time and went to college here.
In their "Iranian Odyssey" talk, the couple will focus on why and how they left Iran and how they managed to start all over again.
Looking back at the days of the Shah's reign, Javid says that was a time when progress was being made in the country, including a drive for equality for women and democracy, and against antisemitism. "But the Shah was doing it too fast," Javid points out. "Democracy doesn't happen overnight. It takes generations."
Preregistration is required for the "Iranian Odyssey" talk. To register, email debra.ellen910@gmail.com.