Our member Judy Craig and her husband John founded Eliminate Poverty Now in 2010 with the goal of creating economic opportunity for the extreme poor in Africa, especially women. Our Section, together with the Temple B'nai Or Sisterhood/Women's Network, heard a fascinating talk about this initiative.
The "extreme poor" is not just a descriptive term. The precise definition is people who live on less than $1 per day. Sadly, over 1 billion people fall into that category, and Africa is home to the largest percentage of them. Eliminate Poverty Now empowers these people by providing knowledge and opportunity to lift themselves out of extreme poverty. "Most of our work is in rural areas because that's where most of the extreme poor live. And most of it is agricultural because that's the principal activity in the countryside," John says.
The Craigs highlighted the work they're doing in Niger, the poorest country on earth. Most of the country lies in the Sahara Desert. Eighty percent of its 15 million people farm rain-fed crops for their survival. In such arid conditions, and with drought now occurring in two years out of every five, they are at constant risk of starvation.
"Our main project there is to introduce modern agricultural practices using irrigation as the foundation," John noted. "We partner with a world-famous Israeli agricultural scientist, one of the team that developed drip irrigation technology to make the Negev bloom. In fact, the entire leadership team for our project is Jewish, while the country is 96% Muslim." In addition to sharing details about this ambitious project, he pointed out that they have surprisingly warm relationships we have with the people there despite the religious differences.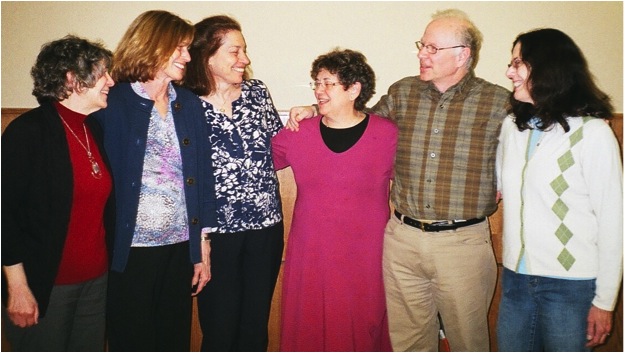 Eliminate Poverty Now: At a joint meeting of our Section, and the Temple B'nai Or Sisterhood, held at the synagogue, members of both groups heard a fascinating talk by John and Judy Craig, the founders of Eliminate Poverty Now, a nonprofit organization dedicated to eradicating extreme poverty in Africa. Judy is an NCJW, West Morris member. (from left) Susan Neigher, co-president of our Section; Karen Lilienfeld and Vivian Gibilisco, co-presidents of the Temple B'nai Or Sisterhood; Judy and John Craig; and Nadine Milberg, a Temple B'nai Or Sisterhood vice president.
Our Mission
The National Council of Jewish Women is a grassroots organization of volunteers and advocates who turn progressive ideals into action. Inspired by Jewish values, NCJW strives for social justice by improving the quality of life for women, children and families and by safeguarding individual rights and freedoms.