K aren Gooen, one of our life members and the author of two books, gave an insightful talk at our Paid-up Membership Brunch on Sunday, Nov. 20, at 10:30 a.m., at a private home in Mendham. The title of her talk was "The Psychological Benefits of Mah Jongg, featuring Wisdom from Bubbe Fischer."
The event was free for all paid-up members. Members were also able to pay their dues ($35 a year) at the brunch.
Karen said prior to the lecture, "My lecture will explore three major psychological benefits of mah jongg, as well as some of Bubbe's most valuable hard-earned wisdom. I will also (try to) answer any and all questions on mah jongg strategy, etiquette, and history."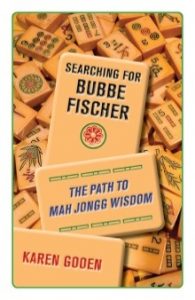 Karen's first book, Searching for Bubbe Fischer, is nonfiction—a combination of a memoir and a manual. "The first half covers my quest to find a mah jongg mentor, tracing my journey from being a rookie to a skilled player and instructor," she points out. "The second half includes some of my best lessons for players at all levels of experience, so that every reader can 'be (her) own Bubbe.' "
Karen adds, "Bubbe is the book I wish I could have read when I was starting out. It took me years to pick up these tips, and I know that any motivated player would want to have a shortcut or two. It's been very popular with both newcomers and seasoned veterans, and is generally mentioned as part of the 'Mah Jongg Canon,' along with works by the two top American mah jongg writers, Tom Sloper and the late Elaine Sandberg."
Karen's second book, Small World, is a novel. The first book in the "Mah Jongg Table Talk Tale" series, it's the story of a mother and her middle-aged daughter in suburban New Jersey. The novel features tales of rekindled friendships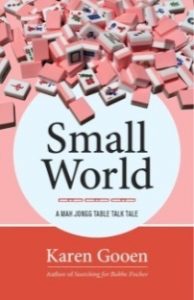 , lost loves, and lots of mah jongg stories.
"I wrote Small World because my readers kept telling me they loved the stories and wanted to hear more. It's been well received, and I am currently touring the US, speaking about both books. I recently had my first international appearance, in Hamilton, Ontario," Karen notes.