"Fire is like magic. It has magical power," said Carol Losos, executive director of GlassRoots: Newark Glass Arts Center, and our special guest speaker at the Personal Giving Thank-You Brunch, held in May. The Personal Giving Campaign was co-chaired by Dorothy Cohen and Anne Gorman.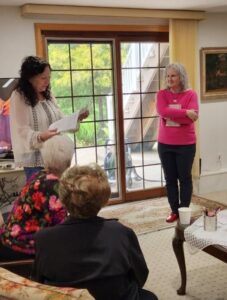 At the brunch, Carol pointed out that GlassRoots, which was founded in 2001, is designed to reach inner-city students who don't thrive in a traditional educational setting. "Glass breaks—that's part of learning and creating," she noted. "It's an inherent part of the process, and that teaches resilience, because you have to try again. Resilience is a life skill. Glassmaking also teaches the value of communication. It's like a dance. There's choreography in working around each other by following rhythm and pattern."
The GlassRoots "hot shop," where glass is blown, includes two furnaces and an annealer. The organization also takes glassmaking on the road with a "mobile hot shop" that includes a portable glassblowing studio.
Besides teaching the art of glassmaking, GlassRoots instills in 18- to 24-year-olds the skills of business ownership, product development, and entrepeneurship through its Youth Entrepreneurial Spirit (YES!) program. GlassRoots also employs young teaching artists as paid interns and fellows.
Some youngsters participating in the GlassRoots program take part in a summer workshop at the Peters Valley School of Craft, with counselors and alumni mentors. "We offer the students many layers of support," Carol noted.
GlassRoots also rents space to glass artists and offers private lessons for individuals and groups. For more information about GlassRoots, visit www.glassroots.org.